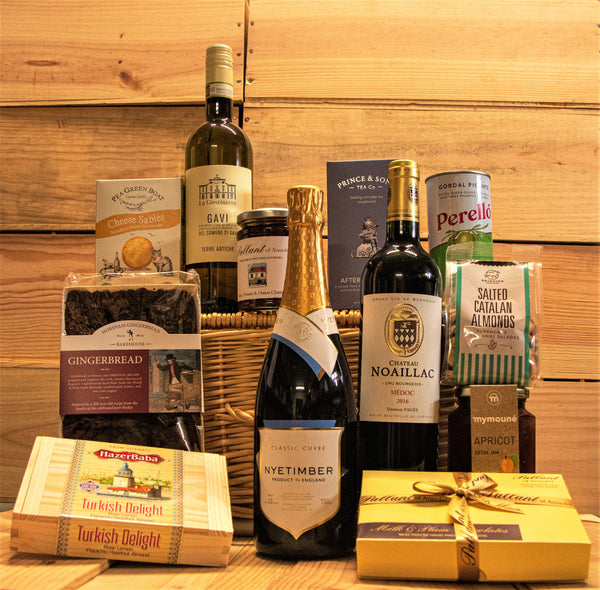 The Perfect Gift, Any Time of Year
Corporate Hampers
We have great experience of providing hampers and gifts for corporate clients throughout the year.  
Many businesses return to us each year ordering hampers to be delivered to their clients and staff. Using the FedEx next day delivery service we are able to send hampers anywhere in the UK. We can include a gift card with your personal message or you can supply your own cards for us to attach.
Please contact us if you can't find what you are looking for from the hampers featured on this website or if you have specific requirements.
Contact Us
For Your Perfect Day
Cheese Wedding Cakes
from £100.00
We are able to supply a wide range of whole cheeses suitable for creating the perfect cheese cake for weddings, birthdays or other celebrations.
We recommend approximately 70g-100g of cheese per person which normally cost around £3.00 per head. Cakes will need to be assembled and decorated by yourself or your caterer.
Orders should be placed ideally 4 weeks in advance and a deposit will be required to confirm your order. Please speak to us about local delivery options should you be unable to collect the cheeses yourself.
Please visit us at the shop for samples and tastings. It is often best to phone in advance to arrange a suitable time to ensure we have someone on-hand to spend some time with you. We normally suggest a variety of cheeses to meet all tastes: hard/creamy, strong/mild, blue, goat's etc. You may also wish to consider vegetarian options and pasteurised cheeses.
We are also happy to quote for supplying fresh breads, cheese biscuits and a selection of pickles & chutneys to accompany your cheese cake.
Contact Us